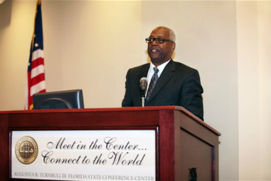 With over 25 years of experience in minority business development, Windell Paige and WP and Associates offer small and large companies a wealth of knowledge that guarantees results. Broad experience and extensive research background have established our foundation for providing systematic analysis for issues concerning social planning, human services and program management. We also assist to foster business to business relationships through matchmaking and strategic alliances, which benefit governmental entities, non-profit organizations, and small and large corporations.

WP AND ASSOCIATES' RANGE OF SERVICES INCLUDE: SALES, CULTURAL DIVERSITY TRAINING, PUBLIC INFORMATION, SMALL, MINORITY, WOMEN, DISADVANTAGED AND DISABLED-VETERANS BUSINESS PROGRAM DEVELOPMENT AND DISPARITY STUDIES.

Other services include:
Public Speaking
Dynamic and charismatic public speaking expertise with over 20 years of experience in Diversity Program and Policy Development for Minority and Majority businesses.
Business Consulting
Advisory services to help senior management improve the effectiveness of corporate strategy, process, or operations by assessing business needs and reviewing business functions, plans and directions.
Supplier Diversity Program Development
Identify and analyze opportunities to connect viable-growth oriented diversity businesses with larger corporations, representing both the public and private sectors.
Logistics/Event Planning
Identify venues for potential programs, review proposals, negotiate discounts, determine other needs, and make overall recommendations.
Marketing and Marketing Research
Strategic and tailored research activities to determine what your consumers want, and the activities that will help your company gain the competitive advantage.